ABOUT US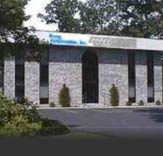 3120 Lexington Park Drive
Elkhart, IN 46514
Phone: (574) 295-7737
Fax: (574) 522-2977
For many years, stampers had to rely on their in-house expertise when buying and using the equipment they rely on in their facilities. While stamping equipment is becoming much more productive, it's also becoming more technical and complex, making it more difficult for in-house staff to maintain and troubleshoot. Press Automation's Application Engineers help our customers fill the void by providing the application expertise for not only stamping equipment, but a variety of other automation equipment.
The state-of-the-art of the industry today is such that we are much more than a sales organization. We keep abreast of the latest technology so that we can best support our customers and help them increase their productivity in the most cost effective way. Our outside Application Engineers and inside sales and customer service team are ready to help you achieve your goals. We provide installation and training on everything we sell.
Throughout our history, Press Automation's main goal has been to be the best distributor in the Midwest. We have also become known as one of the best distributor's in the country. We are highly respected by our peers in the industry. We feel we are not just a distributor, but a partner in productivity with our customers.