Coil Technology, Inc.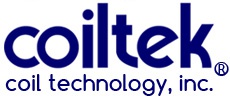 Coiltek has been owned and operated by one family since its inception. Hall Cary founded the company in 1978 in Wadsworth, Ohio, as a daughter company of the late Cary Corporation. His son, Andy, bought the company upon his retirement and has been operating it ever since.
In 2008, Andy's wife, Annette, and their daughter, Addy, came to work for the company, making it a true family business. As of December 2010 Coiltek has a new home in Wooster, OH.
Almost all of the parts that go into the controls and equipment they build are made in the USA. Their quality, American made non-contact loop controls can be found in plants around the world.